Students: Getting Started in Canvas
This page reviews how to get started in Canvas for students. 
Getting Started in Canvas
This guide will walk you through some basic steps for getting familiar with Canvas.
Logging in
You can log into Canvas by going to canvas.njit.edu and logging in with your UCID and password. You will be taken to your Dashboard.
Dashboard
Your Dashboard will show colored cards for your courses. Here, you can quickly access assignments from your To Do list, see Recent Feedback, View Grades, and launch announcements or discussions.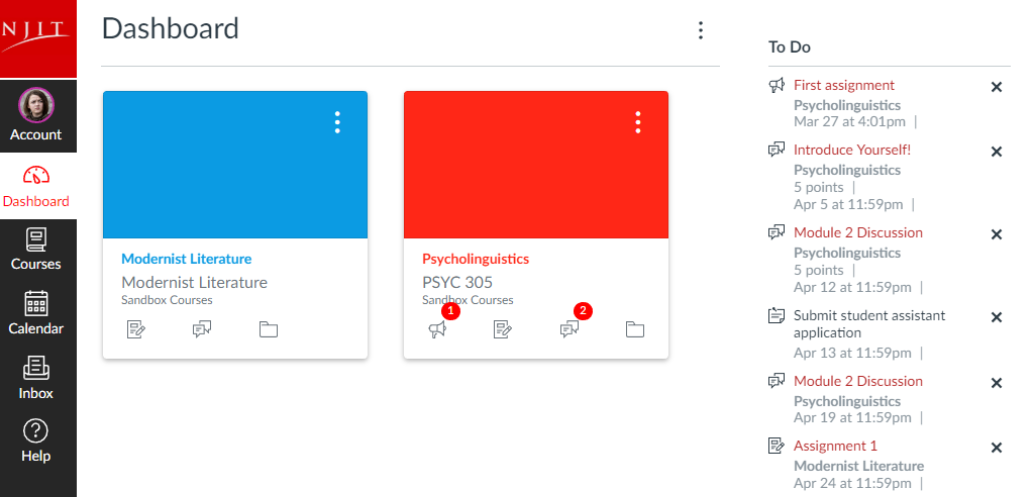 Courses
In Global Navigation, click on Courses and then All Courses. To open a course, click on its name. Courses available to you are published. Courses that are listed but don't contain a link haven't been published and are currently unavailable.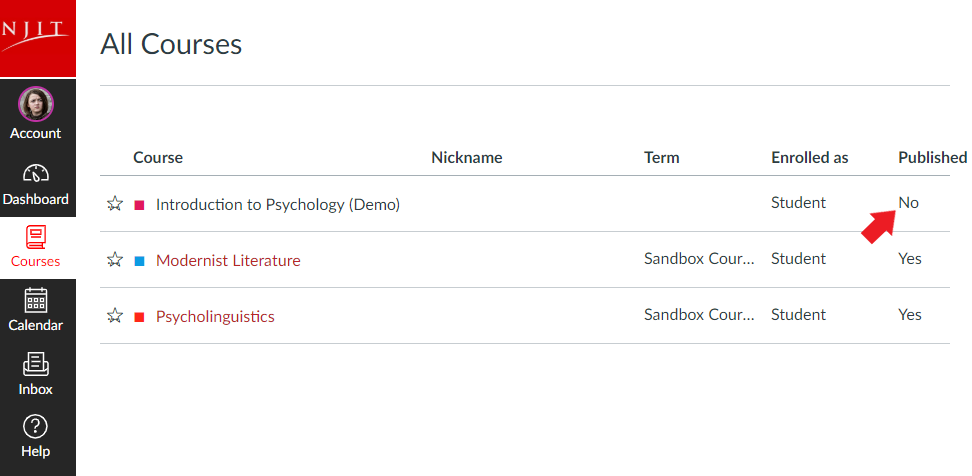 Profile & Settings
Click on Account and then Settings. Here, you can upload a profile image, and edit settings like the Language and Time Zone.

Notifications
Canvas sends notifications to your NJIT webmail account. You can customize how frequently you are notified. Click Account and then Notifications.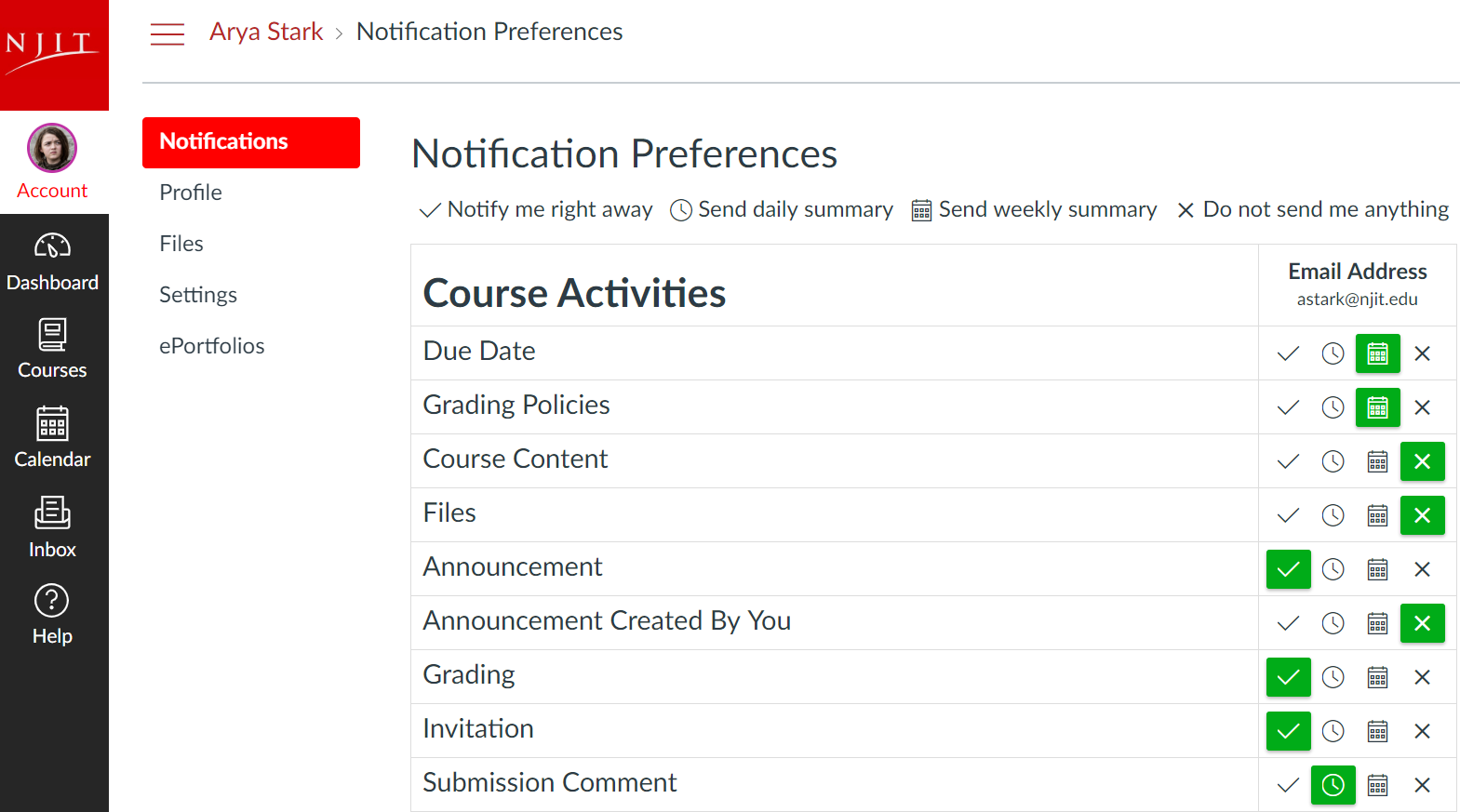 Calendar
Click Calendar. You can choose to view the calendar by Week, Month, or Agenda. Here, you will be able to see all of your assignment due dates. Each course will be a separate color.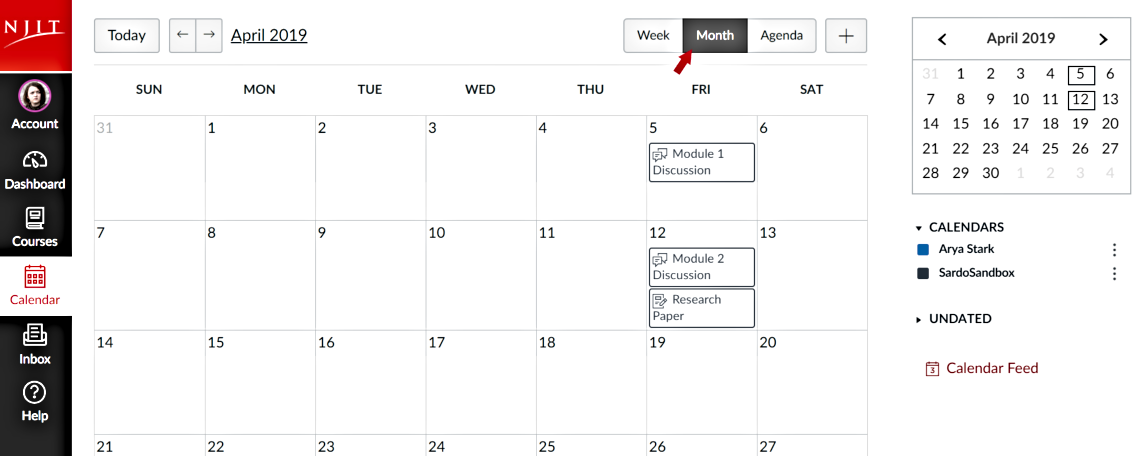 Mobile App
Canvas has a student app for iOS and Android devices. The app allows you to access your courses, participate in discussions, view grades, and more.
To download the app, access the App Store on your iOS device or the Play Store on your Android device. Once you have downloaded the app, open it, tap Find my school, and then type in New Jersey Institute of Technology. When the full name appears in the search list, tap the name. The name of the university should appear in the search list. If it does not, then enter the following URL: njit.instructure.com.
Where can I go for help?
Please contact the IST Service Desk or call (973) 596-2900.
For more information about Canvas you can visit the Canvas Student Guide.